Q&A with Designer Robert Perdziola
By: Jennifer Colgan
Pittsburgh native Robert Perdziola has designed sets and costumes for some of the biggest opera houses in the world, including the Metropolitan Opera, Lyric Opera of Chicago, and San Francisco Opera. This winter, he lends his immense talents to the world of Die tote Stadt (The Dead City). He is especially well-known for the beauty and intricacy of period costumes, which audiences will witness first-hand in the designs that will appear onstage at the Ellie Caulkins Opera House. Learn more about Robert and his journey with Die tote Stadt.
Save your seats for an unforgettable performance of Die tote Stadt and get tickets today>>
You design sets and costumes for opera, ballet, film, and theatre. What are the differences and similarities in how you approach these different art forms?
I have actually not designed for film—I assisted a production designer on a few films, and, in doing so, I got to meet Gabriella Pescucci, Oscar winner for The Age of Innocence. Just observing her work on that had a huge effect on me and how to think about period clothing. I give theatre, opera, and dance, the same kind of detail and attention. Sometimes it works, and sometimes it doesn't!
Have you worked with director Chas Rader-Shieber before? What is it like collaborating with him?
Yes, I have worked with him many times. I always think of him as I did when we were in college together. I took him seriously then, and I take him seriously now. I enjoy our collaborations because I feel relaxed around him and don't feel the need to prove something. His ideas are also different from mine, but I enjoy trying to see what he sees and what he is responding to because I respect his point of view.
Hear the director's perspective on Die tote Stadt in a Q&A with Chas Rader-Shieber>>
When approached with a project like Die tote Stadt, where do you start? What were your first discussions with Chas like?
I was unfamiliar with this opera. Chas described the plot to me, and I wondered, how is it that I did not know of this piece? I became quite hooked. It's like Hitchcock wrote the opera.
The concept for the production blurs the line between reality and fantasy and requires many dream-like elements. How did you reflect this idea in your designs?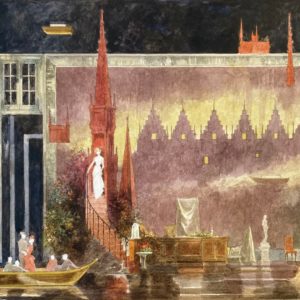 It is really one set that appears differently at times. It is an artist's studio but also an environment of the mind, like any artist's studio. Coming up with the visual was quite easy. One could move it twenty years earlier or later and the principle is still the same.
Many of our patrons have not heard of Die tote Stadt. Why should they see it?
I am actually very bad at this—I like to go to the theatre when no one is in it, so I am apt to tell someone to stay home if they are unsure about going! This piece is about obsession and regret and turning that into art and theatre. No easy matter, but something all of us in the theatre do every day as we confront the difficulties of our lives, or the current world and its harshness.
—
See Mr. Perdziola's new sets and costumes for Die tote Stadt on stage at the Ellie Caulkins Opera House from February 25 to March 5. Get tickets today>>