Die tote Stadt (The Dead City) 101 – Characters
By Angelica DiIorio
In Korngold's Die tote Stadt (The Dead City), we follow Paul, a painter who is grieving the loss of his wife Marie. Paul's love for Marie is strong, but it leaves him straddling the world of the dead with the world of the living. On his journey, Paul encounters many people who push him to embrace his life after Marie's passing, and others who keep him tied to the past. Let's learn a little bit more about Die tote Stadt characters who interact with Paul.
See Korngold's Die tote Stadt this winter! Tickets start at just $39>>
Die tote Stadt Characters: Paul
Paul is a painter who has recently become a widow after the death of his wife, Marie. He is lost in his grief, which makes it difficult for him to distinguish between reality and fantasy. He finds an outlet for his despair when he sees Marietta, who very closely resembles his late wife, and feels as if Marie has been revived through her. His love for Marie is strong, but his desperation to see her again damages his relationships with those in the living world.
Die tote Stadt Characters: Marie
Who is Marie? She is Paul's late wife, but we know very little about who she was because she has become an idealized figure in Paul's mind. He is unable to move on from her angelic memory and keeps the locks of her blonde braid in a bell jar. Her memory haunts Paul, which makes him feel guilty for loving anyone other than her.
Die tote Stadt Characters: Marietta
A direct foil to Marie, Marietta is full of life! She is a passionate dancer from Lille, France who is in town for a performance. While Marie's memory is eternal, Marietta's moods are mercurial. She is energetic, flighty, and frequently jealous of Paul's obsession with Marie. She is not easily weighed down by Paul's gloomy demeanor and claims, "I am cheerful and fond of pleasure, fond of mad enjoyment, of sunshine!"
Die tote Stadt Characters: Frank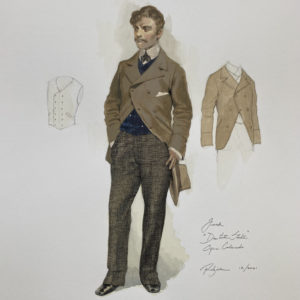 Frank is a friend of Paul's who is worried about his clear inability to move forward following the loss of Marie. Despite his initial concern for his friend, tensions rise between the two when Frank also develops an interest in Marietta. He believes Paul is too attached to his late wife to be with someone as vivacious as Marietta. Despite the two falling out, they rekindle their friendship when Paul finally is ready to leave the past behind him.
Die tote Stadt Characters: Brigitte
Brigitte works for Paul as a maid, but his grief casts a shadow on Brigitte's life. Unwilling to stay under a dark cloud of despair, Brigitte leaves Paul's house to join a convent as a nun.
Die tote Stadt Characters: The Players
In many Shakespeare plays, there are plays within the play. A similar idea is present in Die tote Stadt as Marietta is part of a group of players who are in town to rehearse and perform an opera, Giacomo Meyerbeer's Robert le diable. Among this group of players is Victorin, the stage manager, Fritz, a Pierrot, Lucienne, Juliette, and Gastone, the dancers. There is also Count Albert, who acts as a patron of sorts for the group.
Die tote Stadt Characters: Bruges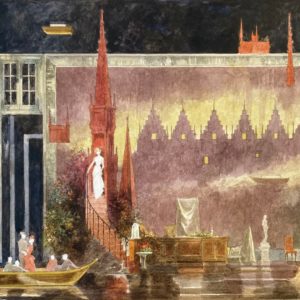 You might have heard the phrase "New York City is really the fifth character" when people talk about the television show Sex and the City. The same sentiment is true for Korngold's story—Bruges really is like another character. The city haunts Paul as he is constantly reminded of his lost life with Marie.
Brigitta even admits to overhearing Paul say, "Bruges and I are one. We worship the most beautiful: the Past."
—
Now that you have met all the characters, it will be easier to keep them all in your head when you see Die tote Stadt live this winter. As an added bonus, all of these characters will be wearing never-before-seen costumes, designed by Robert Perdziola!
Experience this psychological drama for yourself! Tickets start at just $39>>>